The Making a Difference course is making a splash with the local residents of Antrim parish.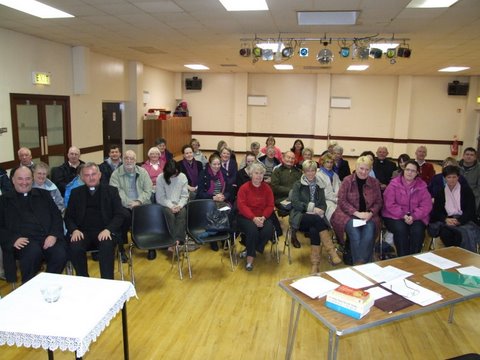 Held on a monthly basis in St Comgall's parish hall, the course is focused primarily on strengthening the faith of the community and encouraging residents to work together towards a better future together.
Antrim resident and group member Catherine McGuigan commented on the course saying, "It's about bringing the community together, developing faith and listening to other people's opinions and views".
""I think it's to get people more aware of what the parish people can do for themselves," says fellow member Billy Darby. He adds, "It's about listening to people from different areas of the church. It's very good and it's challenging".
The course features guest speakers from all walks of community life, both lay and clergy and gives community members the chance to discuss and air their own views and perspectives on parish activity.
Seamus Kearney, another member of the group said, ""I've been along to a few of the meetings. It's about having a look at the parish and how to get involved. You can listen to the speakers and then have your own say".
The course offers an opportunity for anyone to get involved and to share ideas, pitch in and get involved personally with the direction of the community. Catherine McGuigan added, "It started off about developing our faith and getting interested in pastoral care, but I think it's become much more than that".
For anyone interested or for more information, the Making a Difference course is advertised in the Parish bulletin and details will be read out at Sunday Mass .