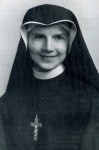 Sister Joan's story is virtually unknown in her own home parish yet she is remembered in Lima each year on December 14th the anniversary of the day she, along with seven of the prisoners she administered to in Lurigancho Prison, was slaughtered.
Joan's parents George and Brigid nee Deegan, were natives of Killanure, a small townland west of Montrath in Co Laois. In 1924 they moved to Antrim in search of employment with their first three children. The family grew and in 1932 Joan was born.
When she reached school age Joan walked the one and a half miles each day to Rathmore Primary School, where they were the only Catholic family. She experienced acceptance and love at Rathmore
Primary and learned the meaning of tolerance and how to harmonise differences in belief.
The family belonged to St Comgall's Parish in Antrim where Joan was baptised, received her First Holy Communion and Confirmation. The religious education of the Sawyer children was the responsibility of the parish priest Father Vincent Davey and so they received religious instruction from the parish curate Fr Dan McAlister once a week, along with a small number of other Catholic children who lived in the
Donegore area. At home too the children experienced and were taught the meaning of Christian faith. Together their parents instilled in them a love for God, a habit of prayer, fidelity to religious observances and attendance at religious instruction classes.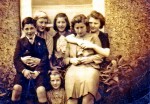 By the time Joan had reached the end of her Primary education she had been given a foundation in faith and love which was to take her very far from her beloved Donegore.
Joan always valued her relationship with her loving God and her deepest desire was to live her life
according to that value. She'd had little contact with nuns but she harboured the feeling that there was 'something more' and gradually came to the realisation when she was about sixteen years of age that God was calling her. The next step was to take the advice of the parish priest. Fr Davey knew the Sawyer family well and recognised Joan's special qualities and believed in her religious vocation. He had spent time working as a missionary priest in Nigeria and believed that Joan had the qualities to give her life in this way also. He decided to put the idea to her and to assist her as far as possible in making her own decision about the future.
Two Columban Sisters, Sister Mary Vianney who was Superior General and Sister Mary Rose were visiting schools in Down and Connor that year and Father Davey took the opportunity to introduce
Joan to the visiting nuns. They were impressed with her and had no doubt about her missionary vocation. Joan introduced them to her parents and promised to think and pray about her future. On 24th September the following year Joan entered the novitiate in Cahiracon, the first step of her journey to become a Columban Sister. On 22nd April, 1952, at just twenty years of age, Joan Mary Sawyer, now Sister Mary Paschal, vowed her life to God as a Missionary Sister of St. Columban. Five years later she made her Final Profession of Vows, giving herself to God as a missionary Sister for as long as she lived.
Like all who enter a Missionary Order, Joan's hope was to be given an overseas assignment, even though this normally meant leaving these shores forever. This was not immediately the case for Joan however and it was 1971 before she finally left Ireland destined for the United States to help with the mission promotion effort there. As a result of Vatican II there were many changes taking place and Sisters were given the option of retaining the names given them at reception or reverting to their  baptismal names. Joan chose to return to the name she had received in baptism in St Comgall's Church Antrim and became known as Sister Joan Sawyer.
Even though this latest assignment took her to foreign fields she continued to serve the Congregation's
mission from within the confines of an office as she had done since her Profession in both Ireland and England and not as she yearned to do, in being with those who had not yet heard the Good News. Joan had become particularly drawn to Peru and on a short holiday home in Ireland shared her feelings with the Superior General fully aware that in obedience to her vows she would go wherever she was sent. And so it was that in December of 1977 at the age of forty-five Sister Joan Sawyer stepped into the final chapter of her life. She arrived in Peru. She had studied Spanish in preparation for this mission but wasn't as yet sufficiently fluent to enter into a lengthy conversation. However, her heart was wide open to the people to whom she had been sent to serve; people who existed in dire poverty, with poor housing, insufficient food and poor health.
Joan began her ministry in the parish of Condevilla, a parish of almost one hundred thousand people and after setting up office in the priests' house began the daily routine of visiting families, trying to see how their situations could be alleviated. Her forte was in working with families. She visited, advised, encouraged and, when she thought it necessary, gave material help. She was often criticised for this by those missionaries espousing the principles of liberation theology. They held that to make people really feel their sufferings was important, so that they would organise themselves to seek their rights. Joan did not agree and didn't believe in letting children, or anyone else, reach starvation point or die of disease if she could prevent it. Her desire was that the people might come to know how much Christ loved them and she saw herself as His agent in their midst. She believed in the people she ministered to, in their dignity, as children of God, equal to all others and in their right to be treated accordingly.
Joan continued her work in the  parish of Condevilla giving totally of herself. She became the voice of the
poor, pleading at times for food for families newly arrived from the mountains into the city. Families benefited from her guidance; children were encouraged to go to school; food kitchens were put on a sound footing thanks to hours of journeying, representing and requesting in the offices of Relief organisations in the city. In 1982 the Columban Sisters decided after an evaluation of their ministry in Condevilla that they had accomplished what they came to do and it was time to move on. In June of that year Joan left Lima for the Mountains of Recuay but only for a short time, the altitude didn't agree with her health and so in December Joan returned to Lima within three months she had begun her new mission as a pastoral agent in Lurigancho Prison, situated on the outskirts of Lima among the city's poorest inhabitants. Conditions were dire; it was a sad, depressing, foul-smelling, unhealthy place. As well as being grossly overcrowded, prison officials were corrupt and imprisonment without trial was normal. The prison had been built twenty years previously and was initially intended for 1,800 prisoners. Now there were 6,500 men living in appalling conditions. More prisoners continued to be sent there while the numbers being released were very low. It was a place full of despair not only for the prisoners but also for their families who came to visit them.
Joan had access to two cell blocks, each with three hundred and fifty men aged between eighteen and thirty years old. She learned all their names and the addresses of their families. She learned the reasons for their imprisonment and whether they were having legal aid. She spent as much time as possible with them, when she could she prayed with them and helped them prepare liturgies for the weekly Mass. Their one desire was to get out of the 'soul-destroying' environment and Joan felt their pain. She felt the frustration of being able to do so little to help them. Yet to anyone looking on she did an enormous amount. She was a familiar figure in the office of the Department of Justice in Lima where she went to verify the reasons for prisoners' condemnation and the court's decision regarding their sentences. She sought for the trial of those not convicted or applied for reduction of time in prison for those with a record of good behaviour. She visited their families, acting as messenger between them and the father, husband, son or brother who was imprisoned. She literally poured herself out in service of the prisoners to the extent that her health was suffering. Her voice became so weak that she needed therapy to improve it; she had frequent headaches and was losing weight, and prison conditions already bad were getting worse. There was restlessness among prisoners, fear and foreboding in the air.
December 1983 and the tension in the atmosphere in Lurigancho Prison was tangible, yet Joan had no fear of the prisoners however she was afraid of the guards. Conditions continued to worsen to the extent that it was almost intolerable. Sporadic riots broke out and were quelled and followed by severe punishment for those involved. Asked if it might not be better to stop going to the prison until the unrest had quietened she replied that the prisoners needed her more now that ever. Christmas was approaching and Joan knew the promise of a trial, hope of legal aid or a termination of imprisonment would be the best gift that any prisoner could get and so she journeyed frequently to the Department of Justice. Normally Joan didn't visit the prison on Wednesday but because of Christmas preparations on Wednesday 14th December she set out by bus for Luriagancho intending to return home for lunch.
She had two important messages with her, which the mothers of two of the prisoners had brought to her house early that morning. One was a small plastic jar of food, the other a small sum of money to help pay for legal aid.
Having signed herself 'IN' in the small office used by the chaplains and the pastoral workers, Joan went off to do her rounds and deliver her messages. That finished, she was on her way out of the cell blocks accompanied by the prisoner assigned as 'collaborator' to the chaplains. She had not intended returning to the chaplaincy office, but stopped there almost automatically when her companion, supposing that she was going to sign herself 'OUT' knocked on the door. When Joan entered she found three Marist Sisters, Ana, Teresa and Pedro, pastoral agents like herself, two women who had come to help with the entertainment for the Christmas celebration, and nine prisoners crowded into the room. This was the day the nine prisoners had decided to break free of prison or die in the attempt and Joan had inadvertendly stumbled upon their attempted escape.
The prisoners' plan had been to hold the pastoral agents and social workers as hostages until the prison
authorities provided transport to take them beyond the prison confines. Sister Ana Marzola, a Marist Sister, who had worked in the prison for ten years, was assigned to act as intermediary between the prisoners and the authorities. Instead of going directly to the prison authorities Ana hurried to report to
Cardinal Landazuri and the bishops what was happening. Then she went to the prison authorities with the plan.  In the meantime the atmosphere in the little room was tense. Sister Joan was not afraid of the prisoners; she did not however trust the prison guards. She was anxious about the contents of her handbag; it held private information relating to the prisoners and their families as well as the money she'd been given by the young prisoner's mother earlier that day – he'd requested that she return it to his mother. Knowing the money was hard earned she transferred it to her inner clothing for safety.
One of the prisoners Alejandro Velasquez, also known as Cri-Cri, a prize winning poetic genius who because of his poverty, never had a chance to develop his gifts and whose one burning desire was to be free asked Joan for a pen and paper; hastily he wrote something and handed it back to her. She never read it but it was found after her death, it read:
In this fatal moment of destiny I make an effort to secure my liberty.
Will I succeed? Help me my God.
I do not wish to do evil nor to endanger anyone
But one more time I do it,
And how many more time will I have to repeat it?
Only God and the time will tell.
Anejandro
14th December 1983
At five o'clock the negotiations ended. The authorities had agreed to provide them with an ambulance and driver to take them from the prison. The hostages would be no longer in the custody of the prisoners whom they trusted; they didn't know what awaited them beyond the small window through which they were pushed before entering the ambulance.
Joan was one of the last to enter the ambulance and sat on a small seat just inside the back door.  As soon as the vehicle left the prison grounds shooting started. A group of strategically placed police opened fire on the ambulance and its wheels. The driver tried to gather speed but the vehicle was no match for the police cars which gave chase, and even though they knew there were innocent hostages in the ambulance the police continued to shoot at it. Having been abandoned by its driver the ambulance careered to a stop but still the machine-gun fire continued in a final crazed barrage of bullets until at last the doors were opened to reveal the carnage. Sister Teresa, the two social workers and two of the prisoners had gunshot wounds. The other seven prisoners including Cri-Cri were all dead and Sister Joan who had been hit by five bullets was drawing her last breath. Joan appeared in one newspaper photograph held like a baby in the arms of a policeman her head fallen backwards in death, her arms limp.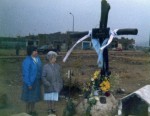 It was six o'clock and back in the house in Cueva, Joan's place at the lunch table was still set and her lunch was still keeping warm in the oven.
Joan's dedicated work in devotion to the poor in Peru was done in a quiet unobtrusive way but her tragic death was responded to by those same people who came in their thousands to the church in Cueva to await the arrival of her body. They had to wait for twenty-four hours because of the obstruction caused by the authorities who insisted that none of the bodies would be released for autopsy until relatives brought lawyers with them for identification. They were too poor to be able to afford lawyers and once again Joan, even in death came to their rescue as the lawyer who came with the Sisters acted as legal representative for the bereaved prisoners families.
When Joan's body finally arrived at the church, it had been adorned with flowers by the poor of Lima, the people among whom Sister Joan had lived and ministered for six years, helping them to find food for their children, to take care of their sick and latterly to ease the lot of those who were imprisoned. That they loved Sister Joan and had clear insight regarding the meaning and value of her death was evident in the large banner which hung above the altar.
"I was in prison and you visited me," (Matt. 25:36), "There's no greater love than to lay down your life for your friends." (John 15:13)
and
"JUANITA YOU WILL LIVE ON IN THE HEARTS OF YOUR PEOPLE"
The church was full to over-flowing the following morning. Cardinal Landazuri with some eighty
concelebrants officiated at the funeral Mass. Most of the people present were in tears and they responded with a tumultuous ovation when the Cardinal denounced the cause and circumstances of Sister Joan's and the prisoners' deaths, and called for a thorough investigation of the event.
After Mass the people who had packed the church walked the journey of ten kilometres (about six miles) that lay between the Church and the cemetery called El Angel. They prayed, sang and took turns with the Sisters and Priests in carrying Sister Joan's body to its final resting place.
In Lurigancho prison the first reaction to her death was one of total devastation. The prisoners who knew Sister Joan were deeply saddened by her untimely death. One of them expressed his reaction in a letter:
"Minutes before Sister Juanita was taken hostage I was speaking to her when she came with a packet sent in with her by my mother. I can still see her eyes which reached to eternity. Her love, pure and gentle, which reflected her great love for people. Her spirit of kindness and sacrifice towards us prisoners will be my most precious memory." Julio
Once the shock and horror of the killings had partially subsided, the Sisters and the Church officials knew that they must follow up on the call for an investigation which was initiated and lasted for eight months resulting in two conflicting conclusions. It was feared that the case might be dropped because of the conflict, but the Sisters and the Episcopal Commission on Social Action insisted that it be proceeded with. There was strong support from around the world demanding that the Government of Peru and its Ministry of Justice proceed with the case through a just trial.
Seven months later when the final hearing was complete, the verdict concurred closely with the findings of one of the earlier investigations headed by the Provincial Attorney imputing responsibility to Armando Castrillon, a former prisoner who had become Inspector of Prisons. He was found guilty of wounding Sister Teresa, but acquitted of all other charges and sentenced to six months imprisonment. A policeman guilty of killing one of the prisoners, was sentenced to one year in prison.
No one was convicted of the murder of Sister Joan and the six prisoners.
The two prisoners who survived the shooting had two further years added to their sentence because of their attempt to escape.
It was a disappointing outcome and the State Attorney and the Attorney for CEAS, together with counsel for the bereaved families and Sister, appealed to the Supreme Court but nothing has come of that.
In a letter written to The Honorable George P Shultz, Secretary of State, Washington on October 30th 1984 Rev Msgr Daniel F Hoye, General Secretary United States Catholic Conference said:  "Since ten months have now passed since Sister Joan Sawyer's death and there has not yet been a report rendered on the promised investigation, it occurs to me that, as some American missionary personnel in Peru have stated, there may be a desire on the part of Peruvian officials to drop the case or let it simply fade away.
I hope that the United States Government will press for a thorough and impartial and timely investigation of the events that resulted in the death of Sister Joan Sawyer. I shall very much appreciate any information that your office may be able to provide me concerning this matter."
BLACK WEDNESDAY is how 14th December 1983 is remembered in Lima.
In the years since Sister Joan's death the prisoners have continued to be inspired by her love and sacrifice. Each year on the anniversary of her death they recall her dedication to reconciliation and her quiet service. The inmates of cell blocks 6 and 8 who knew Joan best sold their allowance of bread and donated the money to buy the oil paints necessary for a large mural of their own design: Joan between two lions, one fierce looking, one calm. The mural is touched up each year in preparation for December 14th when an anniversary Mass is offered on the patio of Pavilion 6. The scant collection of books in the Pavilion which is called the library, has been renamed impressively: "Biblioteca Juana Sawyer".
Those who knew Joan well, the people of Condevilla and Cueva and the families of prisoners in Lurigancho, cherish her memory as of one who came amongst them, and helped in her gentle way as though she had been with them all her life. They have given her name to a Mother's Club, to a Retreat Centre and a Centre for school leaving companions, and they bring flowers to the huge wooden cross which was placed where the fatal shooting happened. This cross has become a place of pilgrimage for many of those whose family members are in prison; for many who are struggling with the cross of oppression and want, and for others who know in their hearts that the degradation of any section of its people is not a way forward for a nation.