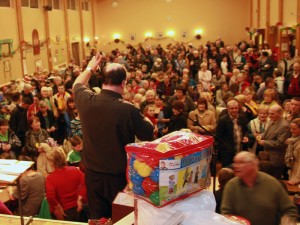 The Spirit of Christmas Past returned to Antrim last December with the staging of the traditional Christmas Bazaar in St Joseph's Hall Greystone. After an absence of some ten years it was apparent from early in the afternoon that the event hadn't lost any of its former attraction. A great crowd from every corner of Antrim Parish, from Ballyarnot to Tannaghmore and from Milltown to Muckamore turned out to enjoy the hustle and bustle of activity.
With great bargains to be had at the bakery and bric a brac stalls, and total  delight from the winners of the many valuable prizes being promoted from the stage, there was much merriment all around and everyone enjoyed the welcome sit down and chat with a cup of tea and traditional fare.
For the children there was plenty in the way of excitement with games, face painting, food and, of course, the much anticipated arrival of Santa, who made his way through the Arctic conditions with the help of a police escort. Despite his busy schedule, Santa stayed long enough to ensure that every child got a chance to meet him and place any special requests.
Parish priest Fr Emerson expressed his delight and that of his colleagues at the massive success the day had brought and paid tribute to the sizeable army of volunteers who had combined to create that success. He especially thanked the local traders for their magnificent support and all who attended, most of whom had finished the afternoon somewhat lighter of pocket.
While the money raised was always welcome in the challenging times we now experience, Fr Sean was all the more delighted with the coming together of the Parish Community on such an enjoyable occasion.  He promises, the 2011 Bazaar will be even bigger and better!